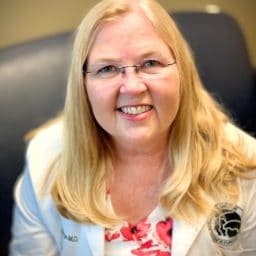 Dr. Jennifer K. Berge earned her medical degree at the University of Iowa College of Medicine following graduating from the University of Iowa College of Liberal Arts in Iowa City, Iowa with Alpha Omega Alpha and Phi Beta Kappa honors. She completed her residency training in the Department of Otorhinolaryngology at the University of Pittsburgh in Pittsburgh, Pennsylvania after finishing an internship in General Surgery at the same hospital.
After her residency, Dr. Jennifer K. Berge was on staff as Otolaryngologist at Phoenix Indian Medical Center in Phoenix, Arizona from June 1997 through July of 2002 before joining us in August of 2002.
Dr. Jennifer K. Berge is a member of the Des Moines County Medical Society where she served as President. She is also a member of the Iowa Academy of Otolaryngology, the Commissioned Officers Association, The American Academy of Otolaryngology-Head and Neck Surgery and is also a Diplomat for the American Board of Otolaryngology.
Special Procedures and Techniques
Endoscopic Sinus Surgery
Coblation Tonsillectomy and Adenoidectomy
Balloon Sinuplasty
Ear Surgery
BAHA
Endoscopic Minimally Invasive Thyroidectomy
Allergy
Latera
ET Dilation