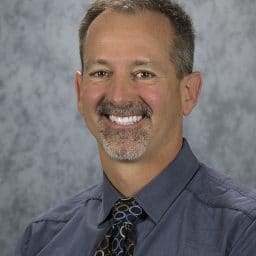 Dr. Douglas E. Henrich, a native Iowan, has been providing outstanding care for patients in Southeast Iowa for over 24 years.
His education continued training, and extensive experience gives him special expertise in the diagnosis, treatment, and management of disorders of the ear, nose, and throat. He earned his Bachelor of Biomedical Engineering with the Highest Distinction from the University of Iowa. He obtained his Medical Doctorate with Honors from the University of Iowa. He then completed a distinguished five-year residency in Otolaryngology-Head and Neck Surgery at the University of North Carolina – Chapel Hill. Dr. Henrich is a Fellow of the American College of Surgeons and a Diplomate of the American Board of Otolaryngology: Head and Neck Surgery. Dr. Henrich is committed to bringing the latest technological advancements in ENT to his patients in Southeast Iowa. He was the first Otolaryngologist in the region to perform minimally invasive balloon sinuplasty, a revolutionary technique with no cutting and faster recovery time. He also was the first ENT surgeon in the state to perform Coblation tonsillectomy to promote faster healing and less pain. He continues to work with area hospitals to provide state-of-the-art Head and Neck surgical care including the latest in laser technology, and minimally invasive endoscopic thyroid surgery.
Dr. Douglas E. Henrich joined Burlington ENT in 1997 and quickly expanded the scope of services to include a full-service Audiology department. Allergy testing and treatment were added in 1999 with a recent expansion of services to include sublingual allergy drops for at-home allergy desensitization. The office also provides an on-site CT scanner, transnasal esophagoscopy, and video stroboscopy providing enhanced diagnostic capability and improved patient convenience. Dr. Henrich has completed many continuing education courses to bring the best quality care to the region. He has been recognized with the prestigious American Medical Association Physician Recognition Award. He is an active member of numerous professional associations. Dr. Henrich has authored over 15 papers and lectured extensively to prestigious professional organizations both locally and nationally.
Dr. Douglas E. Henrich has served the local medical community as Chief of Surgery at Great River Medical Center. He led the Mississippi Valley Independent Physician Association as President for several years. He has been active on numerous quality improvement initiatives for Southeast Iowa Regional Medical Center Burlington. Dr. Henrich also volunteers his time to coach local youth soccer teams. Dr. Henrich currently is on staff at Southeast Iowa Regional Medical Center Burlington, Fort Madison Campuses, and Henry County Health Center. He is interested in all aspects of adult and pediatric Otolaryngology-Head and Neck Surgery.
Special Procedures and Techniques
Endoscopic Sinus Surgery
Coblation Tonsillectomy and Adenoidectomy
Balloon Sinuplasty
Elevoplasty
Ear Surgery
BAHA
Endoscopic Minimally Invasive Thyroidectomy
Eustachian Tube Balloon Dilation
Latera Nasal Valve Repair
Inspire